Rosetta's Kitchen & The Buchi Bar
About
"We are downtown Asheville's whole-foods kitchen & cafe. We serve lunch, dinner, late night, and Sunday brunches as well as our whole menu. We have been open since 2002 and have been serving our extended family, friends, and wanderer throughers, creative vegetarian and vegan soul foods out of our colorful space at a brisk pace all these years."
Mostly vegan, some vegetarian items on the menu too though.
Food Style
Sandwiches, wraps, salads, entrees, curries, rice and noddle dishes.
Highlighted Dishes
Coconut Curry Plate - $6.50
A lightly spiced coconut curry cream with potato, organic spinach, organic peas, organic garbanzo beans and peppers. Served over organic brown rice.
Family Favorite - $9/10.75
Peanut butter baked organic tofu, sautéed kale, smashed potatoes served with our signature gravy. A kitchen classic! Wheat-free gravy available upon request.
Organic Smoky Tofu Wrap - $8.75
Strips of deli style organic tofu and sautéed red onions with romaine lettuce, fresh cilantro and Vegenaise wrapped in a warmed whole wheat tortilla. Substitute local Smiling Hara tempeh for $1.00. Great with avocado, see our Add-On menu for additional toppings. 
Special Mentions
Serve alcoholic drinks downstairs at the Buchi Bar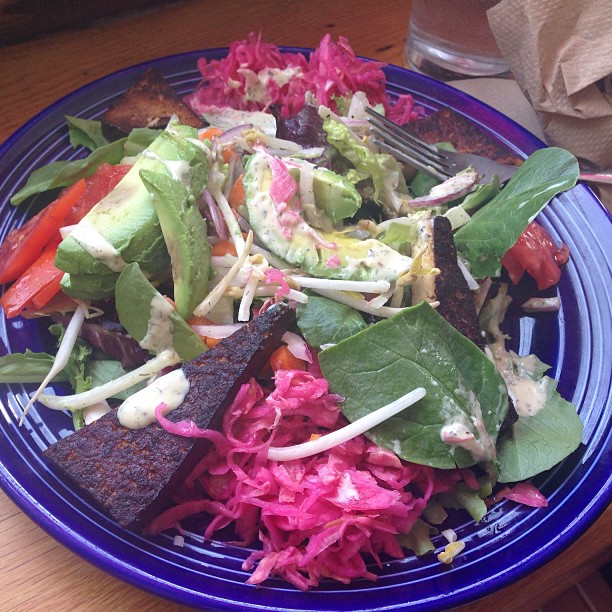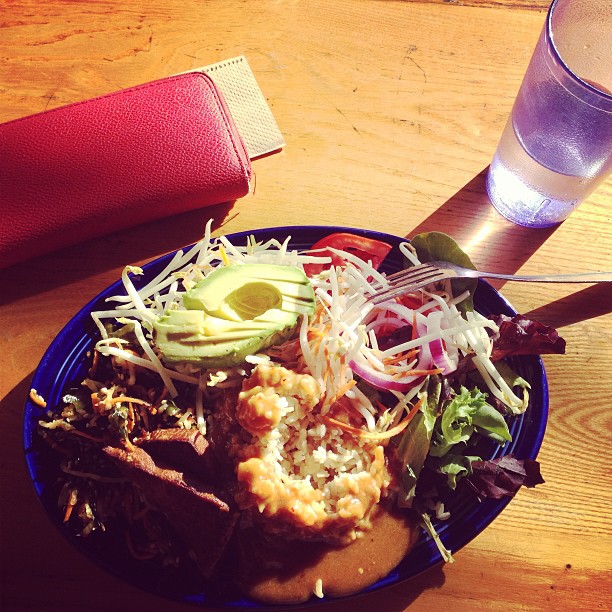 Pictured above: Coconut Curry plate, Salad plate with vegan ranch, Buddha Bowl.